Blogs

We're pleasantly surprised that the poeple at Search Metrics seem to have a very detailed chart of what affects your Google listing. Of course, Google keeps their search formula secret, but extended detailed testing by SEO centric companies reveal much of what effects a site's google ranking. Check the chart out here:
http://www.searchmetrics.com/en/services/ranking-factors-2013/
Came across a great article by Mark Koester on why Drupal is the most powerful and versatile website content mangement system (CMS), and is the best if you have competent skilled Drupalers to help (such as the staff at Digital Immersion). Ok, he didn't specifically mention us, but I think he did sum up the case for Drupal pretty well. (note: Digital Immersion prefers Drupal but also highly recommends Wordpress and Joomla)
Why Migrate From Wordpress to Drupal?: Drupal vs. Wordpress
Drupal's superiority, as many client of mine come to see, is that it doesn't assume you just want a blog. Drupal assumes very little except that you want to organize a bunch of different content and users and you want to add extra features (=extensions, plugins, modules, etc.).

...

Typically clients come me desiring to migrate to Drupal, because they want more than a blog. As you can see from the amount of modules on Drupal.org and tons of examples of Drupal sites, there is almost no limit to what you can build with Drupal. So, in my opinion, you end up migrating to Drupal because eventually sites and web businesses eventually need more than just a blog.

That's when Drupal is ready as your CMS of choice for content, products, groups, images, users, videos and bunch of other stuff that we "glue" and "craft" together into a special community of needs and doings.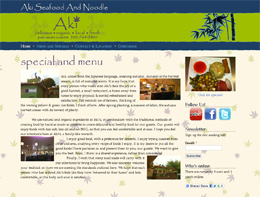 Drupal excells particularly well with restaurant and food related websites. You'll of course want to let your customers know where you are, what's on the menu, maybe a daily specials page, and if your restaurant has events you'll want a robust powerful event calendar, all included with Digital Immersion's Drupal package. Also included is an email newsletter tool and all the social networking bells and whistles, so your customers can tell each other via social networking just how great you and your food is. Shown here (to the right) is Aki's Cuisine.